Current Class Struggle of Pakistan: Interview with PTUDC Organizer Umar Shahid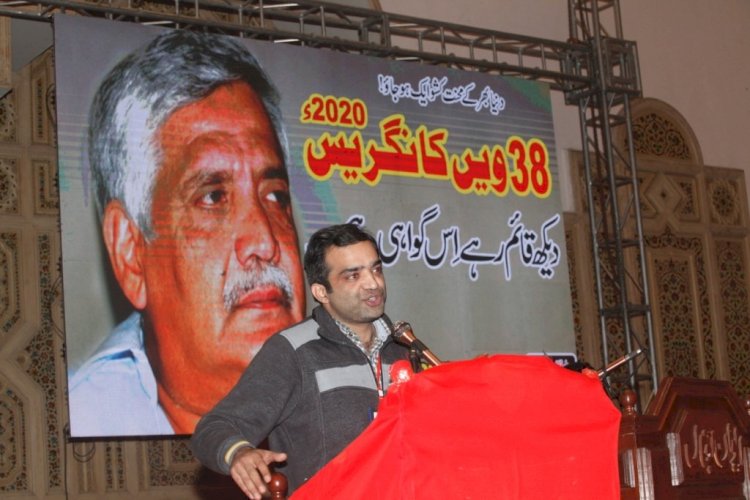 1- Can you compare the workers' conditions before and after the pandemic? What has changed or has been worsening so far?
Pakistan is undergoing its worst economic and political crisis, COVID pandemic accelerated the current crisis and exposed internal contradictions of capitalism. The past two years of the Pakistan Tehreek-i-Insaaf (PTI) government proved as a nightmare for masses. PTI came into power with big promises of "Change" but all their promises, claims have been turned into the opposite. People on the streets have undergone the worst kind of inflation, layoffs, shrinking income and depletion of savings in the last year. Although official figures tell that inflation has risen from 4% to 10%, in actual the prices of sugar, wheat flour, vegetables, pulses, medicines, natural gas and electricity have been doubled. Millions of Pakistani are now unable to even afford two times meal a day. In this economic depression, the pandemic has accelerated this crisis and exposed the true nature of capitalism.

According to figures, Pakistan is estimated to have faced an economic loss of up to PKR2.5 trillion but real victims were ordinary people. The worst economic impact of the outbreak was on the lives and livelihoods of workers. In the private sector, many workers have been laid off and they were thrown at the misery of market forces. Millions of workers had to choose to die either from hunger or pandemic. The government announced a relief stimulus package of PKR1240 billion which also included regular allocations of PKR570 billion (PKR280 billion wheat procurement, PKR100 billion exporters' overdue refunds and PKR190 billion Ehsas program) and a major beneficiary of this package was capitalist class. Their profits were safeguarded through many State-sponsored schemes but workers were left at their own.

As Government is claiming "victory" against COVID and businesses are opening, but again we are seeing contract workers and daily-wage workers are not being taken back. Instead, doors are shut for them and companies are adapting according to new market rules. Again, there is a threat of the second wave of COVID and already many factories in different industrial areas had been halted or restricted due to the coronavirus threat. It means misery, unemployment and never-ending sufferings for the masses.
2- What does the agreement between the Government of Pakistan and the IMF impose? -How do the IMF policies affect the Pakistani class struggle, especially recently?
Pakistan's economy is at a critical juncture and capitalism is going through its historically organic crisis. After the so-called independence from British Imperialism, the local bourgeois have been failed to build nation-state and carry on the tasks of bourgeois-democratic revolution. As result from day one Pakistan had to rely on Imperialist support and debt is compiled and there are very limited economic resources at disposal. Hence again the ruling class is looking towards IMF bailout. 2008 World Economic crisis has already put a lot of constraints on the world economy and there is no permanent revival. Hence imperialist debt has tough constraints attached with its debt. The IMF's latest report about Pakistan economy states, "The legacy of misaligned economic policies, including large fiscal deficits, loose monetary policy, and defence of an overvalued exchange rate, fueled consumption and short-term growth in recent years, but steadily eroded macroeconomic buffers, increased external and public debt, and depleted international reserves. Structural weaknesses remained largely unaddressed, including a chronically weak tax administration, a difficult business environment, inefficient and loss-making SOEs, amid a large informal economy". Report urges Pakistani rulers for "urgent policy action" and without it, "growth prospects will be insufficient to meet the needs of a rapidly growing population". What is meaning of urgent policy action? In simple words we may say IMF is urgently asking to impose draconian neoliberal economic policies. These includes Institutional Reforms, which calls for "right-sizing" of government sector employees' headcount and massive privatization of state-owned enterprises. Secondly, the current budget didn't raise salaries of employees and workers. It's a perfect recipe for disaster and due to these policies, millions of government employees will lose their jobs. It's the first time in the history of Pakistan when Government is pushing for massive privatization of almost all of the country. From state-owned lands to the institutions, everything is on sale. One reason is the economic crisis and nature of capitalist economy today. It is more capital intensive and more skewed towards financial speculations. Giant institutions like Pakistan Steel Mills, Pakistan Railways, PIA, Pakistan Tourism Corporation, Civil Aviation, electricity department, Oil & Gas sector, television and others are put for sale. These are so-giant that they are country within, for example, Pakistan Railways is second biggest landholder and have infrastructure after the Pakistan Army. It has carriage factories, workshops, hospitals, schools, residential colonies, railway lines, engines, sheds and even it has Railway Police across the country. Even the richest among the richest can't buy it as a whole. That's why they are segregating institutes in small companies and offering to buy individually. Due to the economic downturn, internally Government is failed to find a good return on these. Each day we are hearing news of new retrenchments, wage cuts and union-busting.

These are conditions which gave tremendous impetus to class struggle. Under these circumstances, even big leaders of the labour movement acknowledge the fact that they alone cannot defend against these attacks. From private sectors to the Government sector, daily protests are happening. Even privilege workers like Doctors, Engineers and Pilots decided to defy attacks.

Now it is a do-or-die situation in front of working-class and they are fighting, although whole working-class collective movement against IMF is in infancy stage yet it has the potential to become an important beacon to overthrow capitalism.
3- Pakistani workers have established an important united front against the attacks on the working-class called the "All Pakistan Employees, Pensioners and Labor" Movement. It is important to convey experiences to the international labor movement. How did the process evolve? How is the structure and functioning of the organization?
As Lenin wrote, "When the masses are digesting a new and exceptionally rich experience of direct revolutionary struggle, the theoretical struggle for a revolutionary outlook, i.e., for revolutionary Marxism, becomes the watchword of the day". We have recently seen applicability of this phenomenon in the recent working-class movement in Pakistan. Objectively, the conscious and active layer of the working class understood the gravity of the situation. During the pandemic, we have seen every layer of the working class struggling and protesting. But there were many limitations which they learnt through their experience. As far as our organization, The Struggle, is concerned, we have been actively participating in all working-class movements from more than thirty years. Especially in the last ten years when all big confederations and federations resorted towards compromises and betrayed the working class, we were acknowledged as an only militant working-class organization in the country with our front, Pakistan Trade Union Defence Campaign (PTUDC).

As explained earlier, COVID accelerated sharp contradiction of capitalism, workers were on the roads and only The Struggle comrades were there with them. We participated in these small movements and the 3rd June 2020 was a triggering point of all this movement when Government announced retrenchment of thousands of workers in Pakistan Steel Mills (PSM). From social media campaign to nationwide protest, PSM issue highlighted in mainstream and then we were able to collect solidarity from hundreds of unions. After the announcement of budget 2020-21, the Government employees organized in All Pakistan Clerks Association & Railway Pakistan started the struggle for the regularization of workers, pay raise and promotions. After a long struggle of almost two months, finally, Pakistan Railway workers won a 25% increase in their technical allowance. During this time, PTUDC played the role of a bridge in all these isolated movements into one working-class movement. The first meeting was conducted on 21st July at Lahore than on 23rd July at Rawalpindi and we continued strengthening movement and thus "All Pakistan Employees Pensioners & Labour Movement" (APEP&LM) born. Now it has more than 61 trade unions representees of 40 million workers from all economic sectors organized in this movement. It has a coordination based loose structure and currently, there is only a central leadership committee at the national level. The coming days and, most importantly, the movement itself will decide its fate. It has won initial battles but there is a war to win. The ruling elite will do everything to sabotage the workers' unity. They will unleash every possible attack to divide the workers and trade unions united in APEP&LM. The conscious workers will prove them wrong and our aim is to win those workers on the program of revolutionary socialism.

Last time such overwhelming workers unity was demonstrated in the 1968-69 revolution when Bashir Bakhtiar leader of WAPDA Hydro Electric Union, Mirza Ibrahim leader of Pakistan Railway Workers Union and other leaders joined hands and organized all workers federations and organizations under the banner of 'Joint Labor Council'. The Joint Labor Council went on a nationwide strike on March 17, 1969, which led to the resignation of Field Marshal Ayub Khan. This trade union alliance was also tried during the Zia-ul-Haq era during the 'Movement for the Restoration of Democracy'. However, for a long time, the workers' unity slogan has been reverberating, but it has been put into practice at the national level by 'All Pakistan Employees, Workers and Pensioners Movement'. With the formation of APEP&LM, the right-wing also started uniting it's unions.  Many more unions are joining and we are trying to unite them all.

In Pakistan, the unionization ratio is less than 1% and we are planning to concentrate more on the unorganized sector especially the private sector. 
4- On October 14, a massive labor protest took place in the capital city, Islamabad. What impact has it on society and is there a plan for the working-class movement? 
October 14 can be seen as a very humble beginning of the decisive collective struggle of Pakistan's working class against IMF & capitalism.  October 14 was the first time when IMF draconian policies were discussed in the mainstream. Socialists positions were coming into the light and workers response was more serious. Many workers now looking for an alternative and left literature is again in the light. Left positions and articles are being discussed in the wider audience of the working class. At the start of the protest, media almost blacked it out but due to pressure, serious analysts called it an important milestone in history. Many anchors had to give time to demands of workers and even most circulated English newspaper Daily DAWN wrote an editorial, "They could all join hands to make it impossible for the government to stop them outside Islamabad's red zone the next time." Many also congratulate workers for their triumph over Pakistan Democratic Movement leaders (which is a type of popular front consist upon the bourgeois parliamentary parties). Even bourgeois leaders like Bilawal Bhutto, Nawaz Sharif and even Maryam Nawaz had to support this protest and they mentioned the courage of workers in their speeches. 

The October 14th protest is like a "stirs in stagnant water", it again put working class back into fashion. This was also a message to all those leftists who thought working class is finished. There are many aftershocks of this giant protest as many are discussing and coming towards left tendencies. This wave will not stop and we will see an acceleration in the working-class movement.
5- Finally, can you summarize the current class struggle and the potentials of South Asia now?
The continuous imperialist aggression and uneven & combined development of Asian countries have given rise to marvelous movements here. Indian working class under fascists Modi regime is struggling against labor laws amendments and anti-workers austerity policies. From the abrogation of Articles to NRC and CAA laws, we have seen great social movements in India. Even Indian trade unions have been calling a general strike in the country. In Bangladesh, Garment workers are holding a massive protest over unpaid wages amid COVID-19 pandemic. Revolt is brewing at Philippine against Rodrigo Duterte policies, so as Thailand's government faces a persistent protest movement that is bringing thousands into the streets to call for the resignation of Prime Minister Prayuth Chan-ocha. In Indonesia, we are witnessing working-class movement on Omnibus laws and so from Iran to Lebanon, we are seeing potential movements that can overthrow the system. 

Asian workers have many times proved their potential to overthrow capitalism but always the absence of revolutionary leadership limits their progress and again reactionary forces come. But as Trotsky said, "No political struggle goes in vain" all these movements will combine into one large scale movement that will overthrow capitalism from the face of the earth. In this scenario, we have a greater role to play and we must build left forces in the whole region.

Asia is red and it will shake the very basis of global capitalism!