The Syndicate of Workers of Tehran and Suburbs Bus Company condemns the prison sentences issued against Anisha Asadollahi and demands the unconditional release of all labour activists and teachers
syndicate of workers of tehran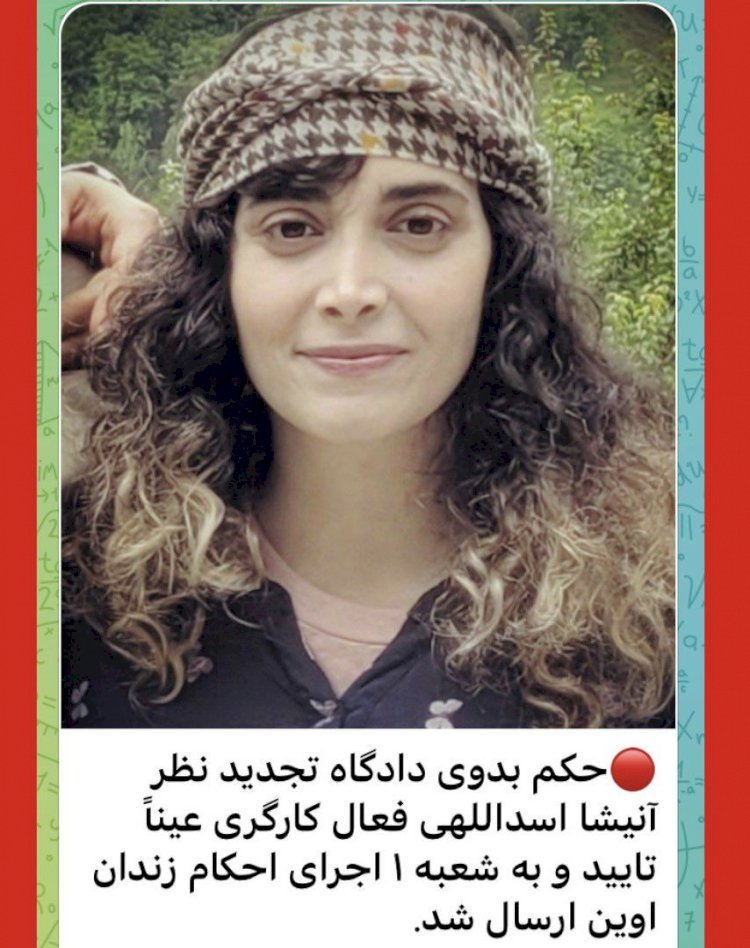 The first Courts of Appeals' sentence for labour activist Anisha Asadollahi was confirmed and sent to the 1st branch of the Evin prison sentence execution.
Anisha Asadollahi, a teacher and the official translator of the Syndicate of Workers of Tehran and Suburbs Bus Company, was sentenced [discretionary custodial sentences] of five years and eight months in prison for two charges of assembly and collusion against national security and propaganda against the regime-this initial verdict was confirmed in the appeals court and sent to the1st branch of the holy court (Evin). It should be mentioned that the letter of introduction to prison has not yet been sent to her.
In Ordibehesht 1401[ May 2022], Anisha Asadollahi, a teacher, translator, and labour activist, along with her spouse Keyvan Mehtadi and a number of teachers and labour activists, including members of our union, were arrested in the so-called case of two French trade union activists. She was temporarily released on bail and her spouse, Keyvan Mehtadi, is still in prison along with other teachers and workers after more than a year, and his release has been prevented and he is facing heavy sentences.
The Syndicate of Workers of Tehran and Suburbs Bus Company condemns the prison sentences issued against the workers' defenders and demands the unconditional release of all imprisoned labour activists and teachers.
The Syndicate of Workers of Tehran and Suburbs Bus Company
06/29/2023
The solution of workers and toilers is unity and organizations
Syndicate's official Telegram channel:
https://t.me/vahedsyndica
Syndicate's official account on Instagram
https://www.instagram.com/vahedsyndica/
Syndicate's official account on Twitter
https://twitter.com/VahedSyndicate
Contact the Syndicate Telegram channel:
@Vahed_Syndica
Syndicate email:
vsyndica@gmail.com
Source
https://t.me/vahedsyndica/5268
Translated by: Zhaleh Sahand