SEP -ISL: A Successful International Summer Camp in Turkey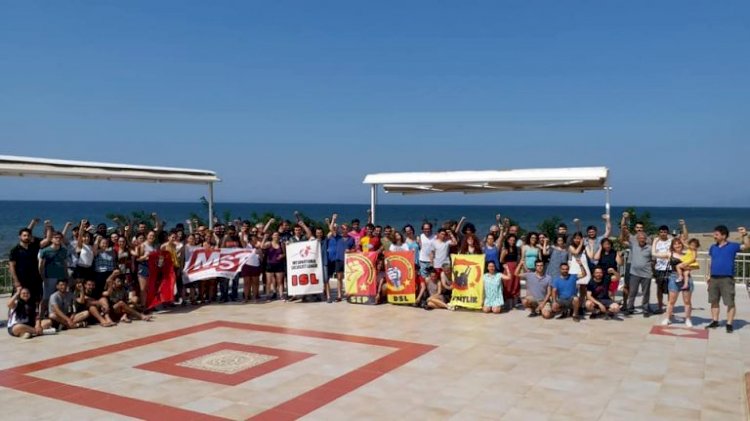 SEP organized its international summer camp Balıkesir 25-29 August this year with the participation of MST from Argentina, SOL from Spain and the Struggle from Pakistan to the first international summer camp of the ISL.

 
As every year, the camp was full of activities and workshops aimed at deepening the theoretical and practical qualifications of our militants. Our camp program started with the opening speech of SEP leader Güneş Gümüş.


In the first session of the camp, the first topic was the ISL as a new international organization. V.U. Arslan from SEP,  Mariano Rosa from MST and Imran Kamyana from the Struggle contributed to the topic. The program, tactics, campaigns and organizational method of ISL is discussed in a very broad sense. The comrades from Struggle contributed the session with the experiences of Pakistan.Comrades from these three countries in economic crisis put forward that with the ISL's historical step forward, international campaigns and solidarity, the socialist struggle will have new opportunities all over the world. In order to get over the socialist organizations' international crisis a Leninist class program against the capitalist crisis, ISL will broaden its forces.
The participation of comrades from ISL has created important opportunities for recognizing the revolutionary experiences of Argentina, Spain, and Pakistan that is a very important internationalist experience for revolutionary militants of SEP.  It is necessary to say that these discussions continued throughout the camp and that we see the appetite of the SEP cadres on this issue vividly.


Within the scope of our international camp, there were a lot of topics such as economy, current class struggles, imperialism, Comintern, internationalism, women's struggle, ecology, youth and some other historical and theoretical issues were discussed. In the workshops, comrades had the opportunity to develop their skills by working on agitation, discussions, propaganda, and politics.


 
ISL's international campaigns for Kashmir, which is under oppression, and the Amazons, which was under wildfire, were also on the agenda of the international camp.
Praksis music band that we invited to the camp this year embellished our camp.  Before the concert, a presentation titled  "The History of Protest Music in Turkey from Ruhi Su to Bandista" , with a live performance of the songs, made by the Praksis band  And, at the concert, Praksis brought enthusiasm to our camp with the songs of the struggle.

As SEP, every step we take and every activity we organize is only a part of our ultimate aim of world revolution. In this sense, ISL's first international summer camp was successful and historical in terms of being ISL's first summer camp.
As we can see from the increase in the number of comrades attending the camp every year it is apparent that a party of the militants of whom determined, militant and dedicated to the struggle, can get over the crisis of Turkey. And an international organization of the revolutionary parties all over the world can change the world in a crisis that brings many opportunities for revolutionary struggle. The right political tactics and strategy are combined with hardworking cadres … ISL strives to implement this formula at every moment of the struggle.
Finally, after the camp, our cadres went to Mount Ida to support the struggle against mining companies. SEP which had been participating in the struggle for weeks organized an international mobilization against the ecological destruction for the profit of the international mining companies.  Not only in the Ida Mountains; the struggle will spread to metropolises such as Istanbul and Ankara and to every area where this destruction takes place will be our primary target. SEP leader Güneş Gümüş and Mariano Rosa from MST made their speeches where the destructive extraction project had already started and declared that wherever the capitalists destroy our planet, there will be revolutionary socialists giving struggle against them.
Speech of Güneş Gümüş from SEP-Turkey:

Speech of Mariona Rosa from MST-Argentina: